Functional Skills at:
10 Red Lion St Wolverhampton WV1 4HL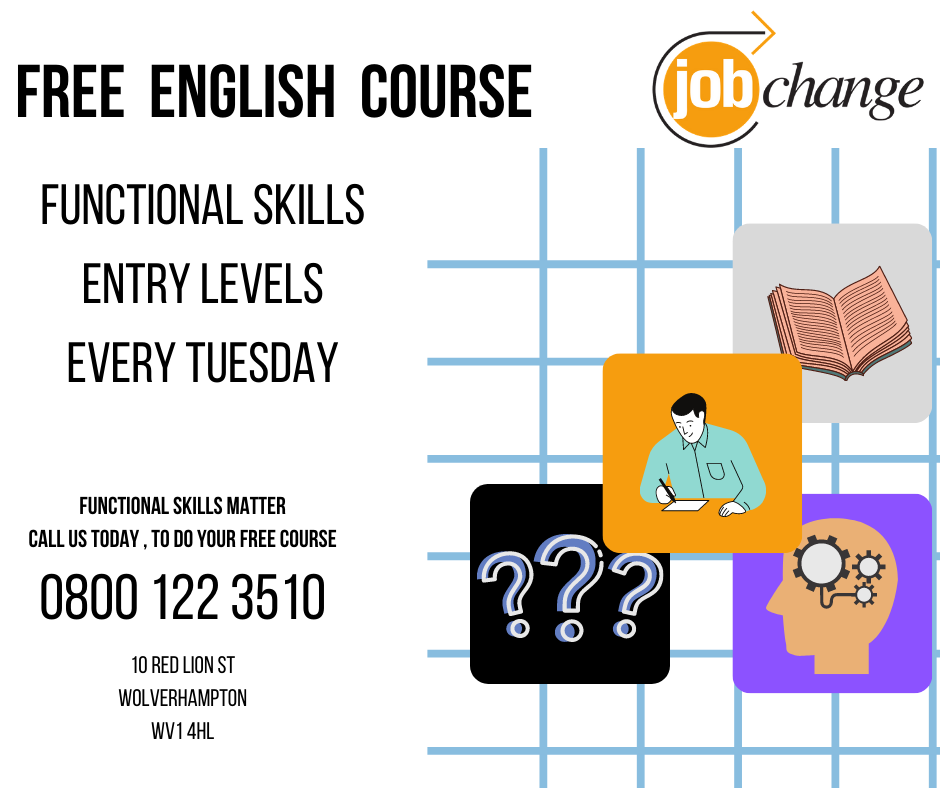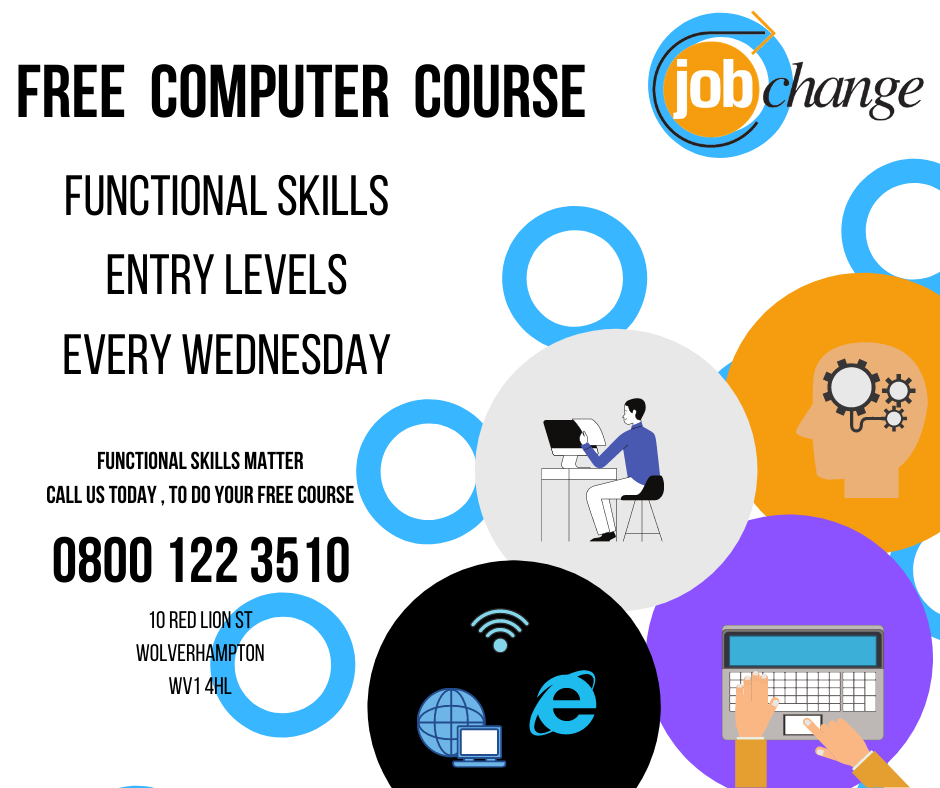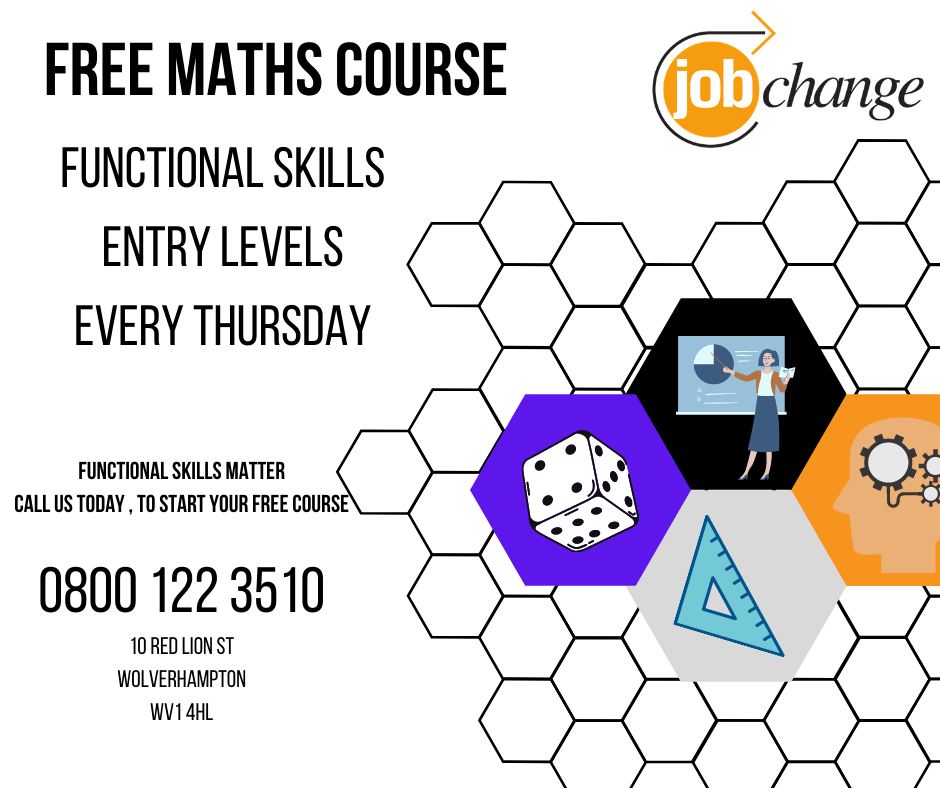 FANTASTIC ON-LINE COURSES NOW AVAILABLE WITH JOBCHANGE
To Book Your Course simply call 0800 122 3510 or fill out all your details on the Contact Page
Food Safety For Catering
Food safety is important for the following reasons. Every day people get ill from the food they eat. Bacteria, viruses and parasites found in food can cause food poisoning. Food poisoning can lead to gastroenteritis and dehydration or potentially even more serious health problems such as kidney failure. Jobchange offer this course free of charge, it can be completed on a PC or a Smart Phone. Food Safety will give you the skills to gain employment within the Care Industry, Catering, Nursery Nurse and Food Manufacturing.

Emergency First Aid E-Learning
The Emergency First Aid at Work course is a total of 6 modules written specifically to cover the knowledge element of the level 3 award.
Understanding the role and responsibilities of a first-aider
Assessing an incident
Managing an unresponsive casualty
Recognising and assisting a choking casualty
Managing a casualty – external bleeding and shock
Managing a casualty – minor injury

Principles of COSHH
Control of Substances Hazardous to Health. This course gives learners the skills to identify many chemical hazards, the Cleaning Industry and Care Industry like employees to obtain this award to prove their awareness to hazards when using chemicals. On completion of the COSHH course individuals should be able to relate to all the following bullet points:
Identify a range of substances commonly found in a range of workplaces and the ways in which they can be hazardous to health.
Describe the range and purpose of legal requirements relating to COSHH, demonstrating that they understand the various and varying responsibilities of employer, manager and employee.
Show awareness of the types of injury and ill health that can be caused by hazardous substance, and an understanding of the difference between acute and chronic injuries and conditions.
Identify the different ways that hazardous substances can be identified and understand the importance of good record keeping and signposting.
Be able to identify the risks associated with hazardous substances and act accordingly. The value and purpose of conducting formal and informal COSHH assessments and implementing appropriate control measures.


Principles of Fire Safety
There are a total of four training modules included in this course that cover the key syllabus of Level 2 fire safety qualifications. Each module has a total of five multiple- choice questions at the end to test learner knowledge. These modules include:
Introduction to Fire Safety
The characteristics of fire
Fire Safety legislation
Assessing and managing risk

Health and Safety within the Workplace
The nine easy-to-manage training modules included in this course cover the key syllabus of Level 2 Health and Safety qualifications. These modules include:
Accidents including, slips, trips & falls
Legal responsibilities
Risk assessment
Workplace health, safety & welfare
Work equipment
Fire
First aid
Manual handling
Hazardous substances (COSHH)

Customer Service
This Customer Service Training Course is suitable for anyone who would like to work in a customer service role or improve on their skills, at all levels of employment. This includes all employees who deal directly with customers face-to-face, over the telephone or by e-mail. Examples of professions who may find this course useful include, but are not limited to:
Receptionists and front-of-house staff
Call centre workers
Online support staff
Front-line sales and customer service staff
Trade and self-employed workers (builders, plumbers, cleaners etc)

Award in Asbestos Awareness
Asbestos is an extremely dangerous substance often found in older buildings where it was used for insulation and fireproofing. Being that it can cause serious health problems, such as mesothelioma, the use of asbestos was banned in 1999 but is still present in many older buildings.
Under The Control of Asbestos Regulations 2012, if you are working in an environment where you are likely to disturb asbestos materials then you must be aware of, and fully trained in, the dangers and correct safety practices.



Safe Moving and Handling in the Workplace
As a carer or care worker, whether you are looking after a family member or working in a care home, manual handling is a huge part of your daily work, especially the moving of other people.
Some such tasks would include pushing wheelchairs, helping people get into and out of bed, carrying shopping, assisting individuals up and down stairs and taking items down from high shelves.
It is a high-risk job and requires a thorough understanding of the dangers and how to prevent them from causing an accident.
This moving and manual handling training course aims to provide users with the information needed to carry out manual handling tasks with great care and safety to reduce the risk of injury to themselves or others.


In-House Courses
ESOL
ESOL
To find out about ESOL for beginners call your nearest Branch- Walsall 01922 625079 or Wolverhampton 01902 714224
Entry Levels 1 & 2 in English, Math and Computers
Functional Skills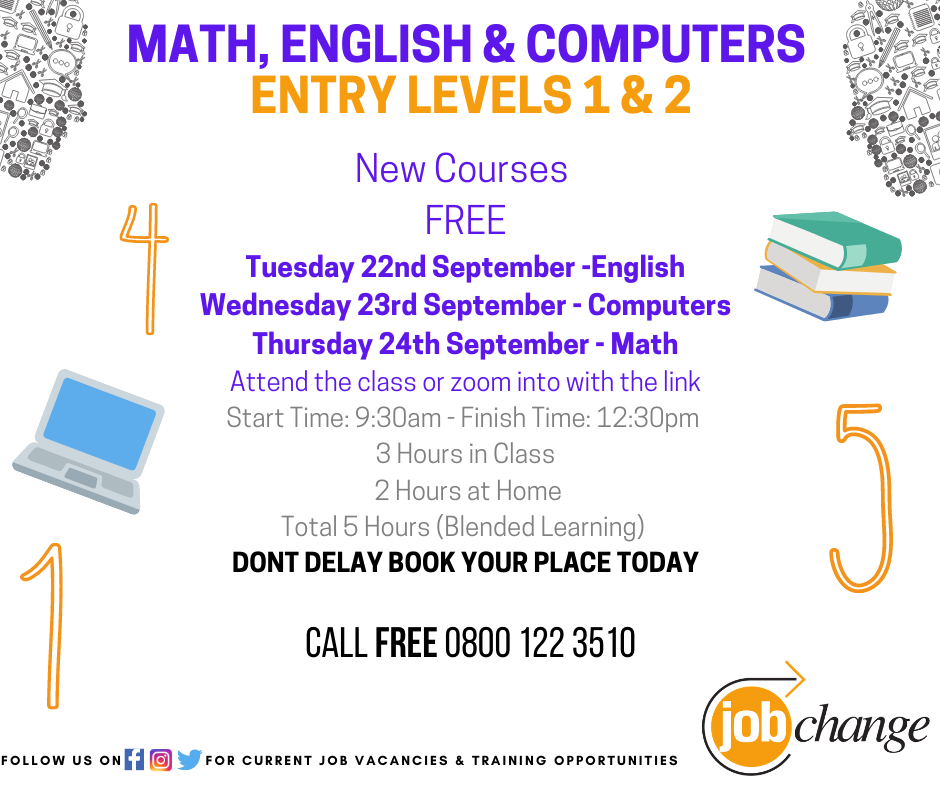 English, Math & Computers (Functional Skills)
Entry Level 1 & Entry Level 2
Wolverhampton Jobchange 10 Red Lion St 01902 714224, WV1 4HL & Walsall 16 Bridge St WS1 1HP 01922 625079
Call your nearest branch for course start dates
Construction Course

CSCS (Touchscreen Test) Course and Level 1 in Health & Safety in a Construction Environment
Wolverhampton Jobchange, 10 Red Lion St, Wolverhampton. WV1 4HL call to book your course: 01902 714224
| | | |
| --- | --- | --- |
| Level 1 H&S Construction | Date | Times |
| Day 1 | Mon 19th October | 8.45am |
| Day 2 | Tues 20th October | 12:30pm |
| Level 1 H&S Construction | Date | Times |
| Day 1 | Thursday 29th October | 8.45am |
| Day 2 | Friday 30th October | 12:30pm |
Level 1 H&S in Construction - Monday's & Tuesday's Starting 7th September and ongoing- 2 Days - Start Time: 9:45am / End Time 2:45 (Exam end of Day 2)
Walsall 16 Bridge St WS1 1HP. 01922 625079
Level 1 H&S in Construction - Tuesday's & Wednesdays - Starting 28th September and ongoing- 2 Days - Start Time: 9:45am / End Time 2:45 (Exam end of Day 2)
Dudley 196 Wolverhampton St, DY1 1DZ. 01384 257825
Level 1 H&S in Construction - Monday's & Tuesday's Starting 7th September and ongoing- 2 Days - Start Time: 9:45am / End Time 2:45 (Exam end of Day 2)
The course covers five core knowledge areas:
Legal & Management.
Heath & Welfare
General Safety
High Risk Activities
The Environment

Level 1 Health & Safety in a Construction Environment
The principles of risk assessments
Safe manual handling in the workplace
Working safely at height in the workplace
Health risks within a construction environment
Working around plant and equipment safely
for more information Click Here
Care Course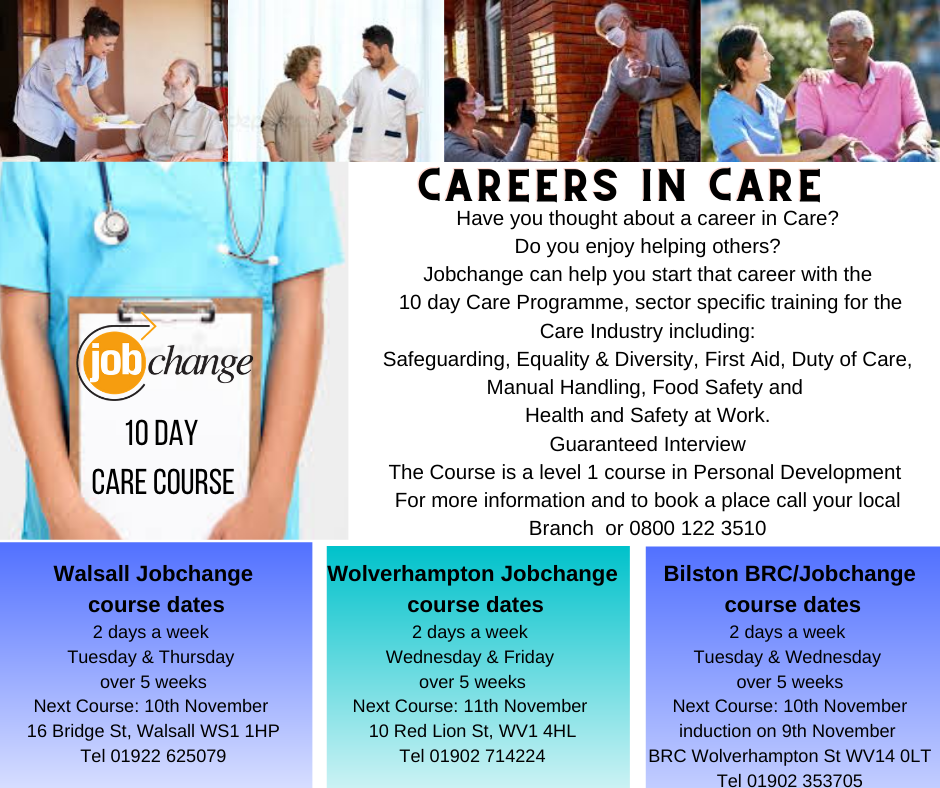 Care Course .
Free program focuses on sector specific training preparing you for the Care Industry.
. Safeguarding . Duty of Care
. Equality . Manual Handling and Food safety
. Diversity & Inclusion . Health & Safety in the Workplace
. Emergency First Aid
. Interviews
BRC Bilston Resource Centre Wolverhampton Street WV14 0LT. to book call 01902 353705
| | | | |
| --- | --- | --- | --- |
| Induction Day | Tuesdays | Wednesdays | Qualification |
| Mon 9th Nov - P/W | 10th November | 11th November | Food Safety |
| Self Assessments | 17th November | 18th November | CoSHH |
| TUTOR/s | 24th November | 25th November | Manual Handling |
| SHIRLEY RHOADES | 1st December | 2nd December | H&S Workplace |
| Vikas Chopra | 8th December | 9th December | 1st Aid-Vikas |
Wolverhampton Care Course 10 Red Lion Street WV1 4HL to book call 01902 714224
| | | |
| --- | --- | --- |
| Care Course | Wednesdays | Fridays |
| Tutor: | 11th November | 13th November |
| Suki Kandola | 18th November | 20th November |
| Weeks | 25th November | 27th November |
| 6 | 2nd December | 4th December |
| Days | 9th December | 11th December |
| 12 | 16th December | 18th December |
Walsall Care Course 16 Bridge Street WS1 1HP to book call 01922 625079
| | | |
| --- | --- | --- |
| Care Course | Tuesdays | Thursdays |
| Tutor: | 10th November | 12th November |
| Suki Kandola | 17th November | 19th November |
| Weeks | 24th November | 26th November |
| 6 | 1st December | 3rd December |
| Days | 8th December | 10th December |
| 12 | 15th December | 17th December |
call us today or email your DOB, postcode and contact number email here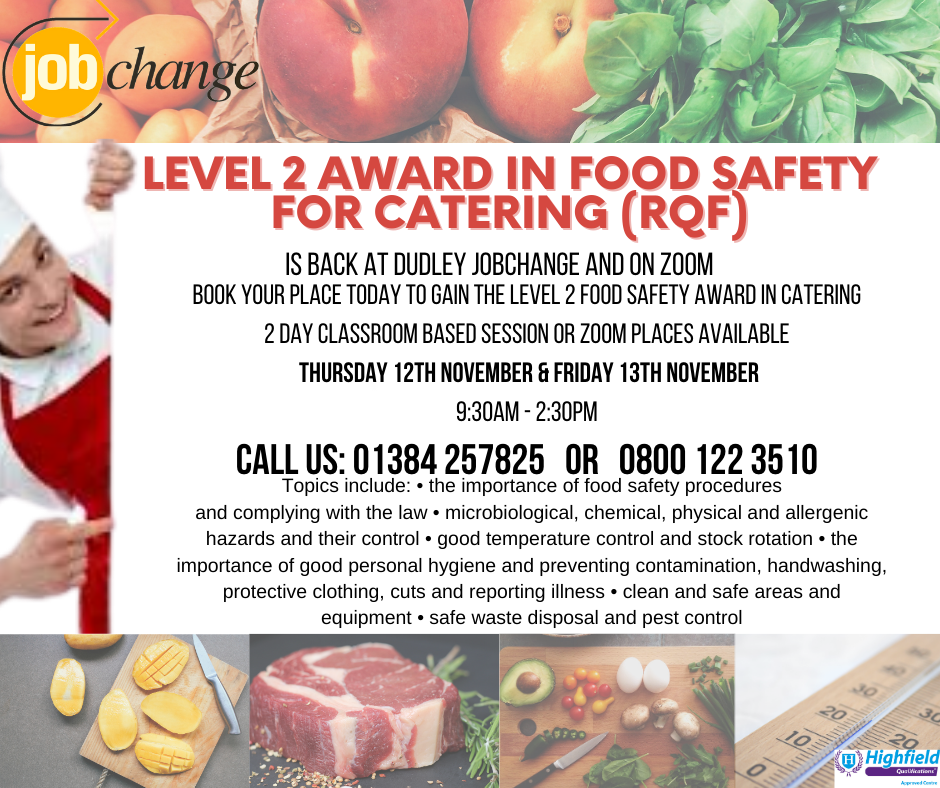 Level 2 Food Safety
Dudley Jobchange: 196 Wolverhampton Street, Dudley DY1 1DZ to book call 01384 257825
Classroom Based 2 day course with the opportunity to remote in to the classroom via Google Classroom
. How to take responsibility for food safety
. Maintaining personal hygiene within the workplace
. Keeping food safe
| | | |
| --- | --- | --- |
| Food Safety | Thursday | Friday |
| Tutor: | 12th November | 13th November |
| Shirley Rhodes | 9:30 am – 2:30pm | 9:30 am – 2:30pm |
| Days: | | |
| 2 | | |