August 2021Newsletter August 2021
Staff have been working hard to ensure we are putting the people in our communities first. We have welcomed new members of staff and congratulated 325 customers for gaining employment.
July 2021Newsletter July 2021
Now we celebrate the school holidays and thank all the teachers for all the good work they have done with our children in such trying times. Just because school is out it doesn't mean Jobchange is! We have continued to remain open through July and are working safely. Jobchange has chosen to continue to follow the COVID guidelines still keeping 2 metres apart and wearing face masks along with hand sanitising at all times.
June 2021 Newsletter June 2021
June has welcomed a new team into Dudley, delivering all the same great courses and continuously welcoming face to face appointments.
May 2021_Newsletter May 2021
Jobchange have welcomed the re-opening to customers for face to face appointments and classroom courses in Walsall. Don't miss out book your appointment today. We are following all the safety procedures so bring your mask.
April 2021 April 2021 Newsletter
April has welcomed the Spring at Jobchange along with Public Houses opening their beer gardens and people being able to meet outside once again. Jobchange are now offering courses in ESOL from pre-entry to entry-level 3. 3 new members of staff have joined Jobchange, Jessica Currie an Advisor in Walsall, Hannah Cox an Advisor in Dudley and Manjit Johal and ESOL tutor in Wolverhampton. We welcome them all.
March 2021 March 2021Newsletter
March has seen Jobchange continue with its classroom delivery in small numbers still inviting customers in who have no internet or PCs at home. We have welcomed three new members of staff who are working in Wolverhampton, Walsall and Dudley and all the female staff have celebrated International Women's Day. E-Learning is continuing and the Care course started successfully online. We now have a road map out of COVID but it will take time, Jobchange continue to follow the 2 metre rule and advise all to wear a mask when participating in classroom courses. Take care all.
February 2021 February 2021 Newsletter
So we have entered the month of Love! A new COVID variant has been identified in Walsall WS2 area causing more disruption. Jobchange have concentrated on giving customers the courses they need to ensure they have the skills to continue into careers. We have tried to ensure easy access to Google Classroom enabling learning to continue. Jobchange are still offering National Careers Service sessions, E-Learning and we even have a few spaces for courses where customers just don't have access to the internet.
January 2021 January 2021 Newsletter
Happy New Year! The year of hope, yet we see ourselves in yet another lockdown due to COVID, Jobchange will remain open. While we can support some customers from home it is clear that we need to also offer an onsite service for those who have no access to IT or digital services. Customers will require an appointment and will be given a letter to attend Jobchange centres depending on needs. We are also offering a wide range of E-Learning https://www.jobchange2007.com/training-courses-1/e-learning take a look at what is on offer FREE to you and start planning your career.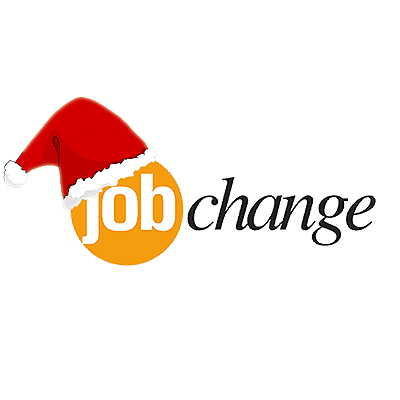 Have a happy holiday from all at Jobchange
Jobchange Newsletter December 2020
December 2020
We are counting down the days to christmas with some special treats behind our daily doors on social media, we are still open for all courses and if you fancy over the holiday period upskilling with one of our E-Learning courses then sign up for it now.
November 2020
England once again enter a lockdown however, Jobchange is an Educational facility and a subcontractor to local Colleges. We have been advised that education workers are key workers and as such we will remain open and on current timetables
Dudley Branch will continue to open at 9:30am until 2:15pm daily
Walsall Branch will continue to open at 8:15am - 12:45pm & 1:30pm - 6:15pm Mon - Thurs early closing at 5:30pm on a Friday
Wolverhampton Branch will continue to open at 8:15am - 12:45pm & 1:30pm - 6:15pm Mon - Thurs early closing at 5:30pm on a Friday
Well done to the 5 ladies who achieved and completed the 10 day Care Course, you are amazing!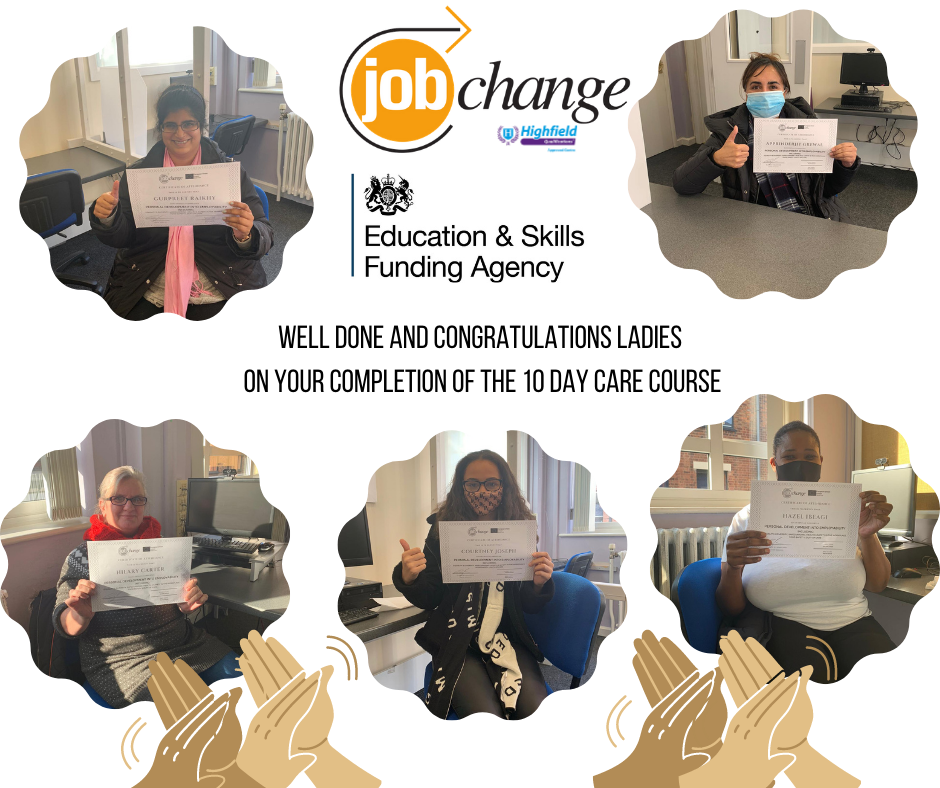 September 2020
September has seen many changes through the doors of Jobchange continuing to follow COVID rules. Many in-house courses are running such as Level 1 in Construction, Care Courses, ESOL and Functional Skills. We understand customers are still anxious and we continue to run on-line courses and advice sessions, so yes you can still get your CV completed over the phone. To find out more checkout our Newsletters at the bottom of this page.
August 2020
The doors are open safely from 9:30am to 2:15pm daily in Wolverhampton and Walsall, call us for an appointment 0800 122 3510.
Check in at our new look reception and meet Sophie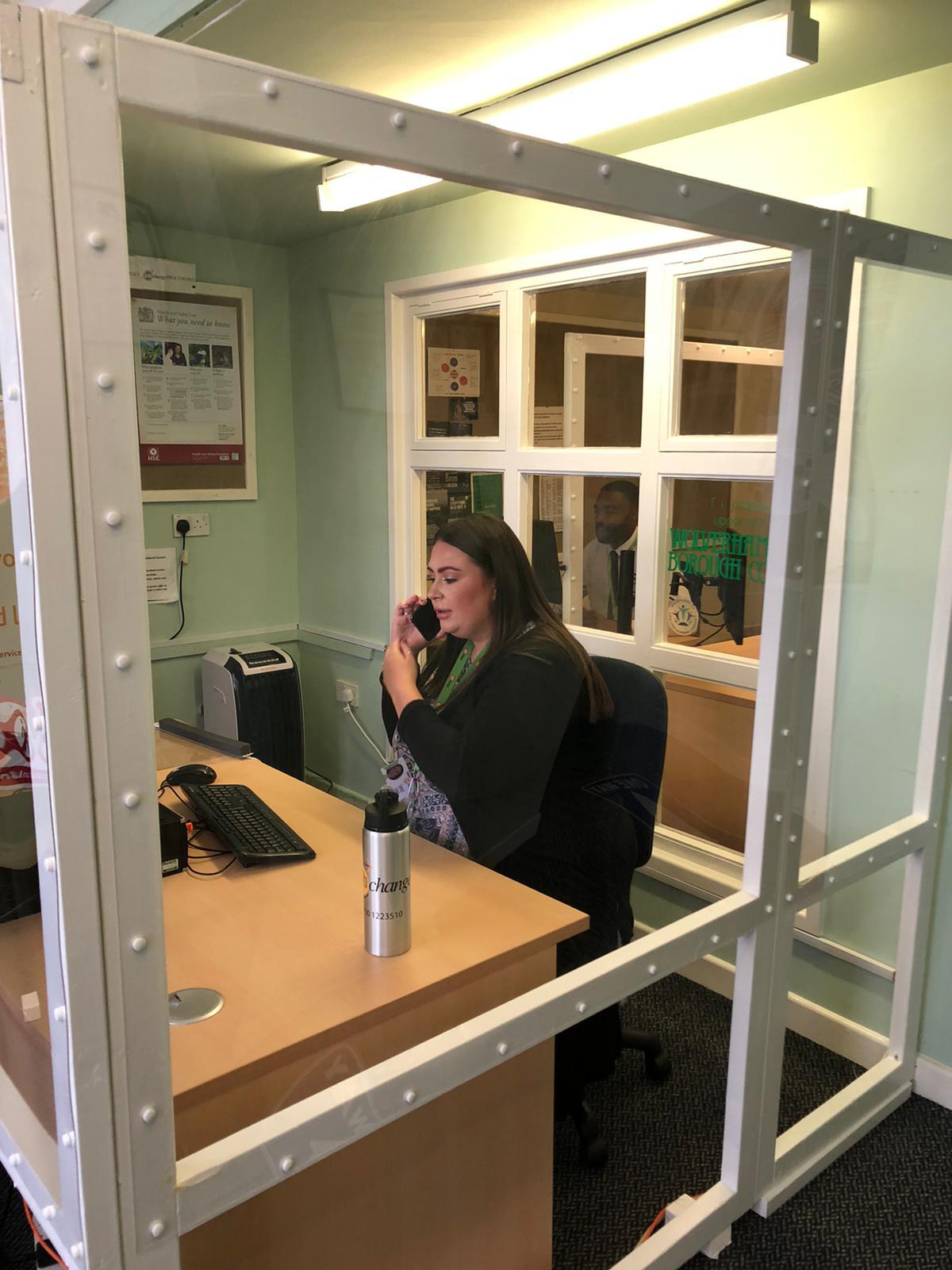 Get your CV and careers advice with Harun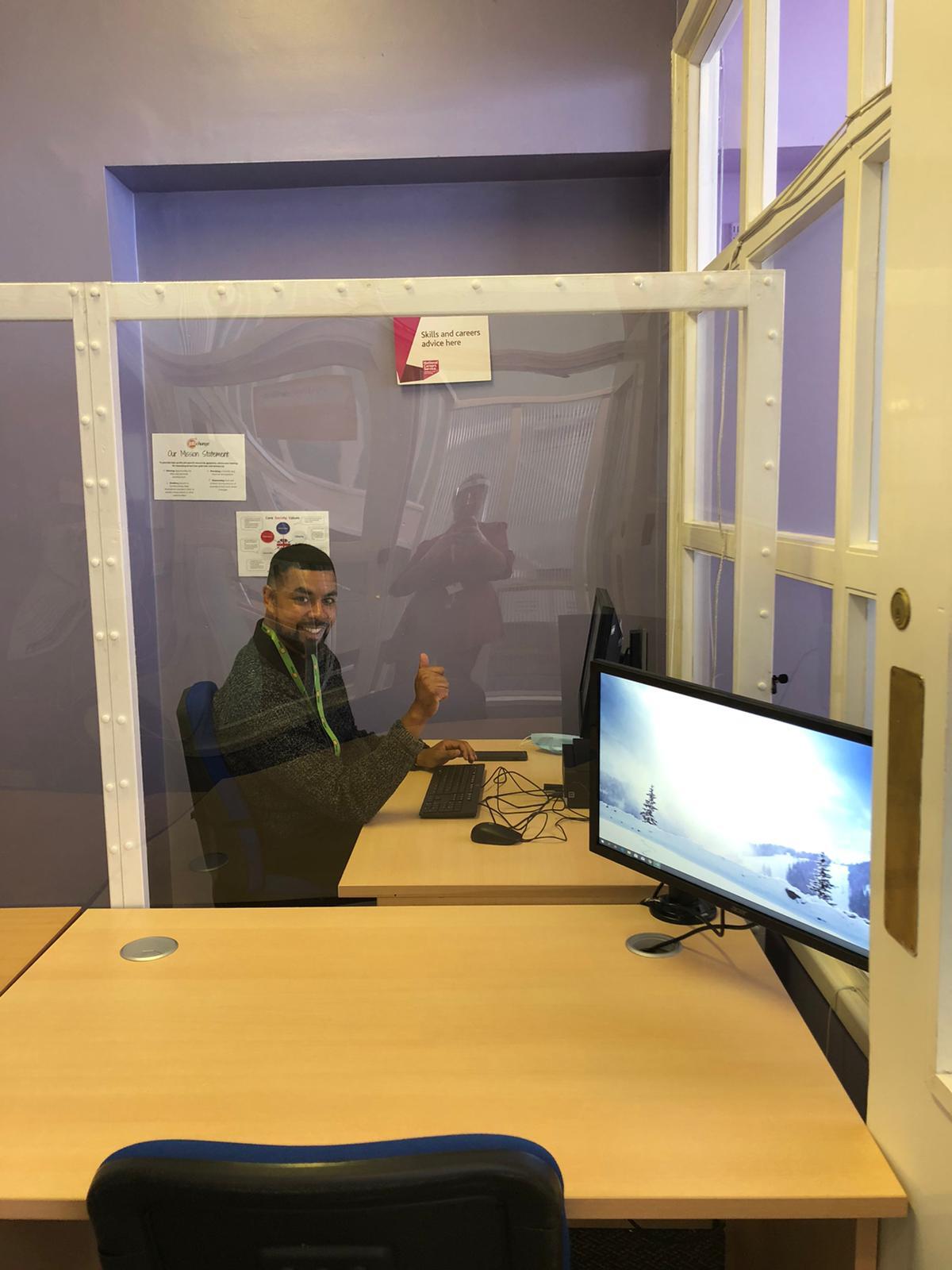 Checkout our new look Training rooms
July 2020
KEEPING SAFE AT JOBCHANGE
Risk Assessment
As we aim to open our doors from the 5th August we share with all our customers our latest Risk Assessment
Safety Card
To ensure all staff, customers and visitors are kept safe from Covid they will be issued with the following safety card on arrival at all Jobchange sites when they open. We will be maintaining a 2 meter distance, we are supplying masks to those who require one along with gloves.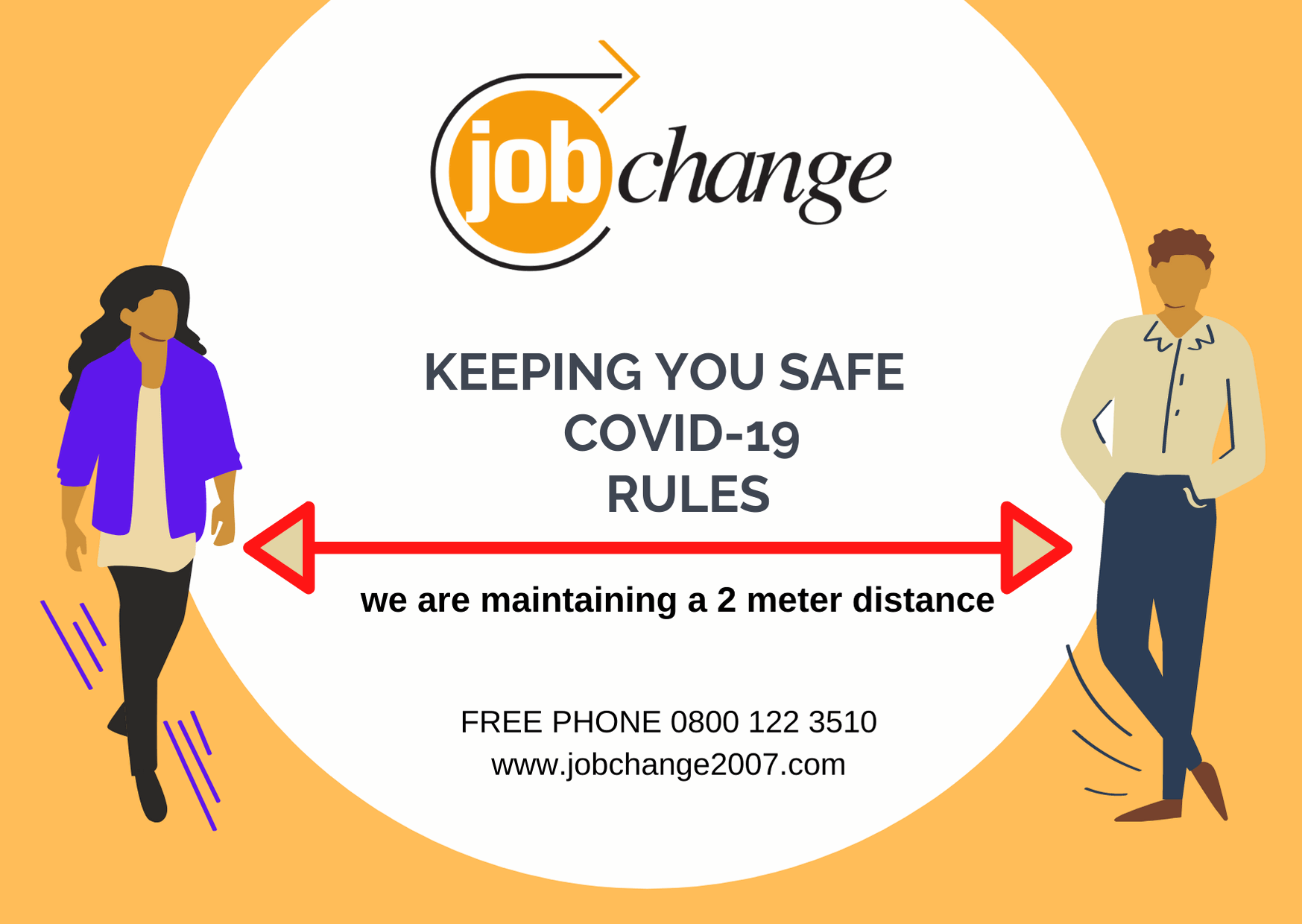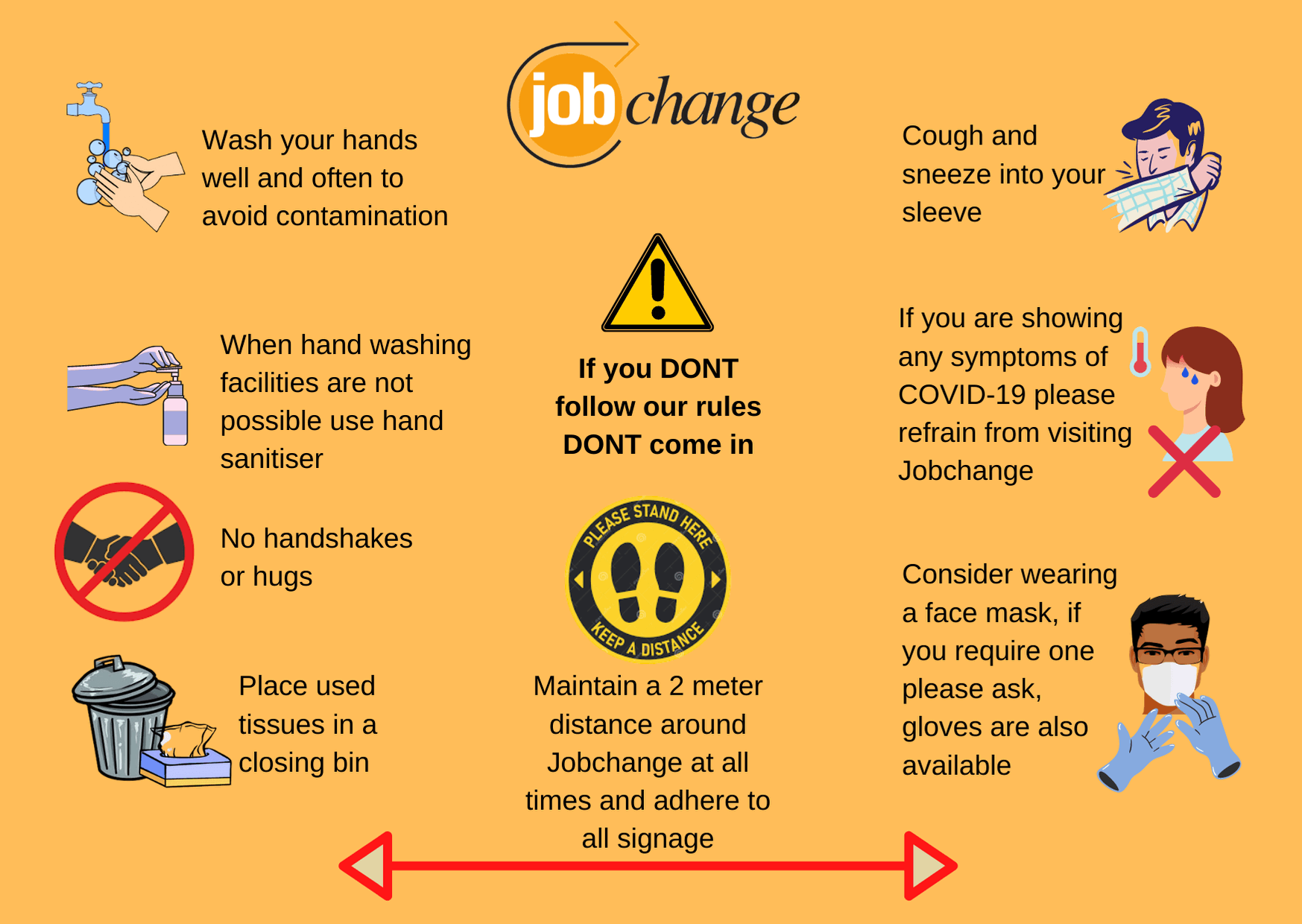 April 2020
Due to Covid-19 Jobchange have made changes to courses provided. The following courses are now available online until further notice, to book your place please call 0800 122 3510 or email info@jobchange2007.com:
ON-LINE COURSES
Food Safety For Catering
Emergency First Aid E-Learning
Principles of COSHH
Principles of Fire Safety
Health and Safety within the Workplace
Customer Service
Asbestos Awareness
Safe Moving and Handling in the Workplace
Take a look at the Jobchange working from home video at all the services we are still able to offer from the comfort of your own home.
---
To find out more read the Jobchange monthly newsletter: